January Monthly meeting: Sharing Your Story to Get Engagement and Coverage
January 19, 2022 @ 8:00 a.m.

-

9:30 a.m.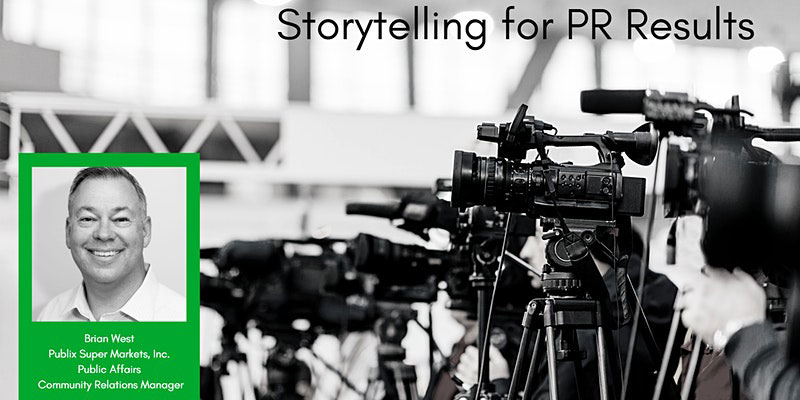 Everyone wants to share their story. Learn how to engage with your audience and achieve your corporate storytelling goals like Publix.
About this event
Everyone wants to share their story. It can be difficult to engage with your audience and achieve your goals. As a grocer in the southeast, Publix Super Markets experiences these same challenges. Brian West, Community Relations Manager, will share things to consider and experiences pitching stories.
Publix Super Markets currently operates 1,295 stores across seven states (FL, GA, AL, TN, SC, NC and VA), and has more than 225,000 associates. Publix associates and customers have helped the company grow from a single store and just six associates to the largest employee-owned company in the United States. We remain deeply dedicated to customer service and community involvement, and being a great place to work.
Key takeaways include:
What's your story? Understanding who you are as an organization.
Use your story to connect with your customers.
Perpetuating your culture.
Preparing for major announcements, and the importance of details.
Promoting and protecting the brand.
Publix is blessed that we've remained in business for many years. Everyone starts somewhere. Being true and consistent over time can be one of the most important aspects to build and maintain your brand and stand the test of time.
Brian is a third-generation citizen and life-long resident, of Plant City, FL. He is a graduate of Plant City High School and Florida Southern College where he earned a Bachelor's Degree in Human Resource Management, with a minor in Finance.
Brian began his career with Publix Super Markets in 1991, working in the Deli Kitchen – their deli manufacturing facility. After serving in several different roles in both production and support, he was promoted to the Human Resources Department where he spent almost 10 years as an Associate Relations Specialist. He is currently the Community Relations Manager covering central and southwest Florida.
Brian serves as Board Member for the Lakeland Chamber of Commerce, Board Member for the East Hillsborough Law Enforcement Appreciation Association, Board Member for Unity in the Community, and Associate Director for the Florida Strawberry Festival. He has also served as Past Zone Chair and President for the Plant City Lions Club, Board Member Emeritus for the United Food Bank of Plant City, Board Member for V.I.S.T.E. (Volunteers in Service to the Elderly), and Past Chair for the Greater Plant City Chamber of Commerce.
Brian's wife, Jennifer, is the Supervisor of Gifted for Hillsborough County Schools. They have been married for more than 23 years and have three children; Elizabeth (17), Elijah (14) and Emory (10).
Note the new meeting location: My Office & More, 122 East Main Street, Lakeland, FL 33801