July Monthly Meeting: Capturing Creativity at Catapult
July 21, 2021 @ 9:00 a.m.

-

10:30 a.m.

$5
Please note this meeting begins at 9:00 a.m. at Catapult. Sponsored by Publix.
Join us for breakfast as we meet some of the new entrepreneurs in Lakeland and capture some of their creative spirit. As public relations professionals, we often wear multiple hats but these individuals do it all. We will hear from graphic designer Stacey Jones founder of Simply Creative and Richard Young, founder and CEO of Up Training Solutions. Workspace Director, Christin Strawbridge will share how Catapult fosters entrepreneurs in our area and will give us a guided tour of their new facility. This event includes breakfast and is underwritten by Publix.
About the Presenters:
Stacey Jones founder of Simply Creative
Stacey J is a talented Creator, Design Mogul, Fine Artist, Children's Book Author + Illustrator, Branding Innovator, Mentor, and Businesswoman who provides simplistic, sophisticated Visual Branding within her industry. She's the Minimalist Graphic Designer who is well-versed in taking the simple approach of a good idea, and assisting her clients with turning that into a living, breathing entity from concept to execution. Known to many as the "Branding Genius" her business motto goes hand in hand with her expertise: "#GreatBrandsGreatDesigns!"
Early on, she achieved her Bachelors of Fine Arts degree in Graphic Design, and another BFA in Fine Arts Drawing from New World School of the Arts — the Fine Arts Division of the University of Florida. She has acquired a keen skillset for captivating the eye through design. And she is continuously challenging the norm through her love for creativity! She has always had an advantage in Graphic Design because of her exceptional drawing skills. This has afforded her the ability to align her passion for art, and intertwine it with her purpose for giving and helping others through her business. Simply Creative Designing Inc. is a full service design studio that specializes in visual communication and creative thinking. Providing quality with a unique approach to any service, identity, product, brand, and/or business. For Stacey J it's not just about creating a visual, it's about creating the right visual for the right need.
Through her business and talent, she has collaborated with many aspiring new brands/entrepreneurs/start-ups with their brand identity and development. And with growth Simply Creative Designing Inc. is well known also for its celebrity collaborations with brands such as Yandy Harris Smith, Cyn Santana, Rapper Future Hendricks, Milano Di Rouge, NFL's Arron Gordon, Maurkice Pouncey, Greg Jennings, Tracy and Alonzo Mourning's Honey Shine Inc., Fossil, Budweiser, and more. Her design knowledge and aesthetic is helping her pave my way in the graphic design industry, and also creating new layers for her as a visual artist. Stacey always expresses, "It's a beautiful feeling to wake each day helping others reach their goals in their respective industries." Design is definitely her thing.

Richard Young founder and CEO of Up Training Solutions
Richard Young is the founder and CEO of Up, an app focused on team performance tracking and providing on-demand training content for the newest generation of sales professionals. The Up App, from Up Training Solutions, is a new mobile platform for sales training that builds and enforces productive habits, provides sales teams with on-demand, micro-module training content, and helps to strengthen communication and culture. The Up application for IOS and Android features a Patented, fully customizable KPI tracking feature that promotes engagement and teamwork through competitive tracking of daily productive activities for sales teams via a real-time leader board. After 9 months of development, the app was officially launched in March 2021.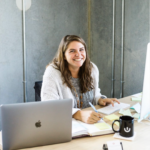 Christin Strawbridge, Catapult Workspace Director
Christin is a native Lakelander and graduate of Kathleen High School and Southeastern University. As the Workspace Director at Catapult, her day-to-day responsibilities vary but she loves getting to work in an inspiring environment around innovative people who are chasing after their goals.