November Monthly Meeting: Compelling Connections – How and Why Your Influence Matters
November 20, 2019 @ 7:30 a.m.

-

9:00 a.m.
In this fun and inspiring presentation, author, game designer and filmmaker, Tim Walsh screens clips from his documentary film, OPERATION: Operation, and discusses the themes of play, connection and vulnerability, culminating in the claim that our influence matters more than we realize.
In 1964, John Spinello invented a game that would eventually become the iconic board game, Operation. John sold the patent rights to his game to a toy development company for $500. The game went on to sell over 45 million copies, delighting generations of kids all over the world. In 2008, John lost his business and then discovered that he needed surgery he could not afford. Fellow game inventor, Peggy Brown joined Tim to launch a crowd-funding campaign that called on fans of Operation to help John pay for his surgery. The story broke and soon John was on Good Morning America, NBC Nightly News, and dozens of other TV shows.
Within 8 days the campaign raised over $32,000 for John's surgery! Hundreds of people wrote to thank John for the fun. Some wrote to thank him for the inspiration. Dozens of doctors, nurses, and even surgeons wrote to credit Operation as one of the influences that led them into the medical field. John learns that the game he invented and the power of play have touched more people, in more ways, than he could have ever imagined.
Tim also cites fun stories from his various creative projects and research on brain science and psychology to take his audience on an informative and memorable ride toward Compelling Connections. Whether we're conscious of it or not, we use our influence as we "conduct" our lives and our businesses. What are you transmitting?
About the Presenter: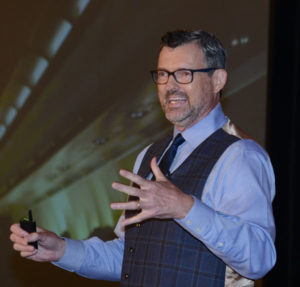 Tim Walsh plays hard. He's a professional speaker, author, game designer and filmmaker. His first book, Timeless Toys (Andrews-McMeel, 2005) was praised by The Wall Street Journal and USA Today. His second, WHAM-O Super-Book (Chronicle Books, 2008) was picked by NPR as "One of the best gift books of the year." His third book, Right Brain Red: 7 Ideas for Creative Success, written with designer and super-entrepreneur Reyn Guyer, was just released in the spring of 2017.
A 29-year veteran of the toy industry, Tim is known internationally as a toy expert. He worked for Patch Products (now PlayMonster) as its VP of Product Development & Marketing and was instrumental in taking that company from $3 million in sales to over $23 million. His designs and co-designs of games have sold over 7 million copies in 13 countries and include the games TriBond, Blurt, Mad Gab, Link 'Em, You've Been Framed and many others. He's appeared on numerous TV and radio shows including CBS's The Early Show, NPR's All Things Considered, This Way Up, and Top 100 Toys (BBC), among many others.
In 2010, Tim co-produced the film Toyland, by director Ken Sons. The film won Best Documentary awards at three US film festivals. In 2016, he co-produced and co-directed OPERATION: Operation The Power of Play with Peggy Brown. The film shares the amazing story of John Spinello, the inventor of the classic game Operation, as he discovers that creativity connects him to more people in more ways than he ever could have imagined. The film won the top prize for best film at the 2017 Naperville Independent Film Festival.
As a lecturer and inspirational speaker, Tim is out to prove that PLAY is not a four-letter word, but a means through which we can super-charge creativity and connect with customers, clients and coworkers. He has spoken on this topic and others to teams as diverse as the USC's Physical Sciences in Oncology Center, the State Bar of Arizona, Otis College of Art & Design and other creative organizations.
In 2019, Tim's game Blurt celebrates its 25th Anniversary. Born out of a classroom at Gocio School in Sarasota, Florida, Blurt as sold over 1,200,000 copies since its introduction in 1994. Produced and distributed by Educational Insights, Blurt has been a fun favorite for decades. Tim and the creative team at Educational Insights have some fun things planned in celebration of everyone's favorite word race game!
Find Tim playing at www.theplaymakers.com.
Registration ends Monday, November 18.