November Monthly Meeting: Litigation Public Relations
November 18, 2020 @ 8:00 a.m.

-

9:00 a.m.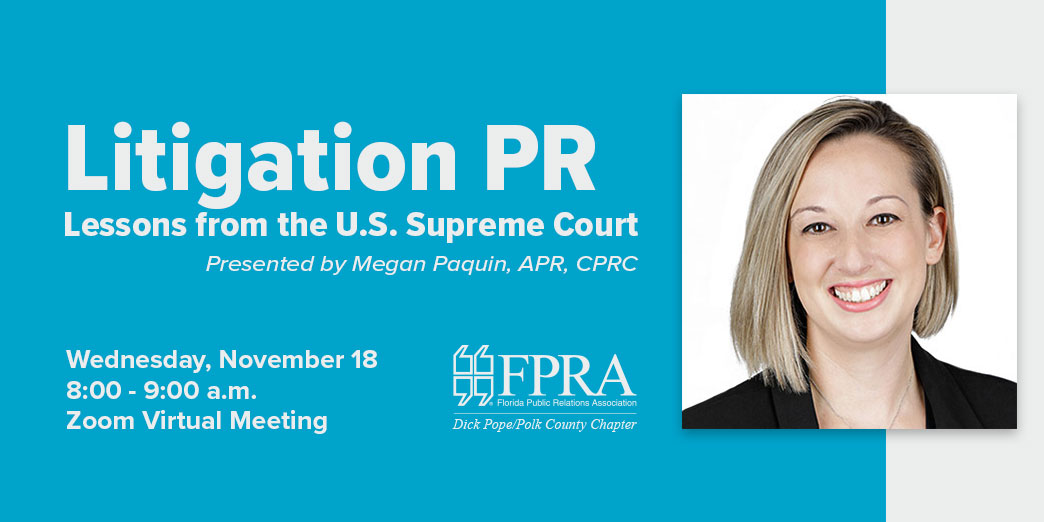 Join us at 7:30 a.m. for networking before the meeting.
While questions about business litigation often result in "no comment" statements, effective litigation public relations can turn legal challenges into opportunities to build relationships with stakeholders. Megan Paquin, APR, CPRC, vice president at Poston Communications, will share insights from her experience as lead communications counsel in a landmark civil rights case to explain how public relations professionals and legal teams can better collaborate to communicate an organization's stance in the court of public opinion.
Takeaways:
Recognizing opportunities within legal challenges and making a case for litigation PR
Effective collaboration with legal teams, including considerations public relations professionals need to know (e.g., First Amendment, defamation, trial publicity and ethics).
Aligning your organization with indirect litigation to communicate corporate values.
About the Speaker:
Megan Paquin, APR, CPRC, has been trusted to lead communications strategies for some of the world's most respected brands. She is passionate about helping organizations build relationships with their stakeholders, and improving our society with effective public relations. As the leader of Poston Communications' nationally-recognized crisis management and litigation communications team, Megan routinely counsels with organizational leaders, individuals and their legal teams in complex, high-stakes situations.
To continue bringing you superior programming and sustain our chapter's financial strength, we are moving back to a minimal fee for professional development sessions. If you are experiencing a hardship due to COVID-19, but would like to attend, please email us, info@fprapolk.org.