April Monthly Meeting: Writing for Clarity, Plus the Impact of Local Media Changes
April 21, 2021 @ 7:30 a.m.

-

9:00 a.m.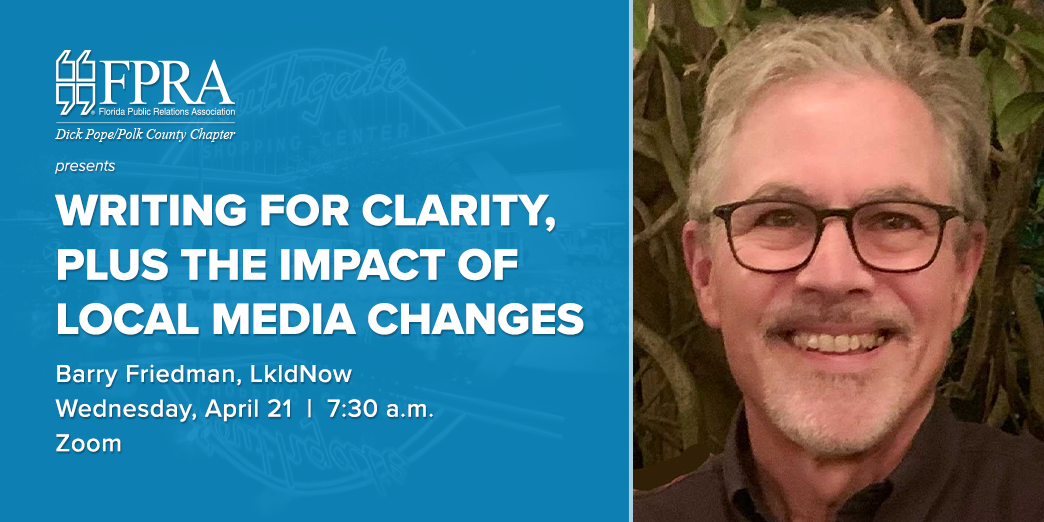 Barry Friedman, the founder of LkldNow, will share tips for clear, concise writing that avoids reader misinterpretation, which is especially important in today's immediate feedback social media realm. He will review the impact of local media environment changes on public relations practitioners. Barry will also offer advice on how to pitch hyperlocal media organizations.
Key takeaways for attendees:
Writing clearly to avoid reader misunderstanding
Impact of changing local media landscape on PR
Advice for pitching new hyperlocal media, including lifestyle magazines
About the Speaker:
Barry Friedman is the founder of LkldNow – independent, community-driven news to connect residents with Lakeland. Its mission is to foster civic engagement. He is also president of Linking Community Now, the nonprofit organization that oversees LkldNow. He has spent most of his career curating news for residents of Lakeland and Polk County as an editor at The Ledger for 32 years and the founder of theledger.com. His current passion is discovering how to preserve engaging and impactful community journalism in the age of social media.
Join us at 7:30 a.m. for networking before the meeting at 8:00 a.m.
Note: Eventbrite fees will now be passed on to registrants. Previously, fees were deducted from the chapter's ticket revenue. We apologize for any inconvenience. If you are experiencing a hardship due to COVID-19, but would like to attend, please email us, info@fprapolk.org.