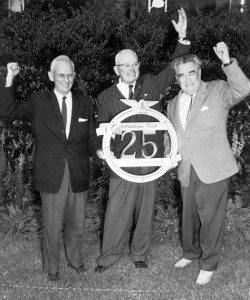 Chartered: January 19, 1970
Located in the heart of Florida, Polk County is situated between Tampa and Orlando. With more than 2,048 square miles, the county ranks as Florida's 4th largest in land mass and the eighth largest Florida county in population with approximately 528,339 people. Polk County is consistently among the top citrus producing areas in the nation, and has been dubbed the "Water Ski Capital of the World" Cypress Gardens Wild Adventure Park, Historic Bok Sanctuary and Fantasy of Flight are favorite vacation stops for thousands of tourists each year.
The Dick Pope/Polk County Chapter is rich in history. Nowhere is this more evident than in two public relations professionals' associated with the Chapter. Its namesake, the late Dick Pope, Sr., was the founder of Cypress Gardens and arguably did as much for Florida tourism as anyone. Another seasoned PR pro, FPRA's founding father, Lt. Col. John W. Dillin, CPRC, was very active in the Chapter and within the entire statewide organization until his passing in 1998.
Today, more than 60 public relations professionals make up the Dick Pope/Polk County Chapter. Monthly meetings are highlighted by quality speakers who address many of the issues, challenges and successes of the industry. The Chapter offers additional professional development and opportunities for networking.