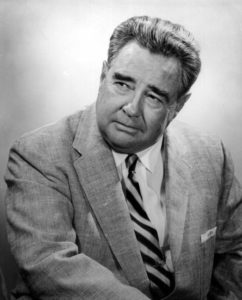 Dick Pope was born in Des Moines, Iowa, according to legend during the middle of a tornado, from where he was said to have derived his whirlwind personality and energy for life. At the age of 7, in 1908, his family moved to Lake Wales, Florida.
In the early 1930s, his wife Julie showed him an article in Good Housekeeping about a man charging visitors money to see the manicured gardens around his mansion home. From this, they hatched the idea of Cypress Gardens, and over the next few years they worked to convert a section of swamp land on the shores of Lake Eloise into a theme park garden. On January 2, 1936, Dick and Julie Pope officially opened their famed theme park, charging visitors 25 cents each to visit. Cypress Gardens was an immediate success.
Cypress Gardens would eventually grow to over 200 acres of land, and host more than a million visitors annually. The theme park provided visitors with an escape from the everyday world, and originally featured idyllic botanical gardens and southern belles working as hostesses. During World War II, a group of soldiers waiting to deploy to war from Tampa, Florida saw photographs of water skiers on the lake at the park, and they mistakenly believed that water ski shows were part of the entertainment offered there. When a small group soldiers arrived at the park, ready to pay the entrance fee to watch the water ski show, Julie Pope rounded up her children, Dick Jr. and Adrienne, and their friends, and staged an impromptu water skiing exhibition. It was a success, and the next weekend, 800 more soldiers arrived to see the show. From that point on, water ski shows were a staple of the Cypress Gardens brand.
Pope worked tirelessly to promote his theme park. He produced over 500 news reels and 75 short films to promote the park. In the 1970s, Cypress Gardens purchased Magnolia Mansion, the New Orleans style mansion, built on Lake Eloise by citrus magnate, John A. Snively. At its height, Cypress Gardens was nationally famous.
The impact of Pope on Florida tourism can be hardly understated. He referred to himself as the "Grand Poobah of Publicity", and through his efforts, the image of Florida as playground for sun and fun spread around the world. He is credited with single-handedly re-vitalizing Florida tourism after the difficult times of the Great Depression and World War II. Cypress Gardens helped to establish Central Florida as the dominant area in the world for theme parks.
The Florida Public Relations Association (FPRA) annually gives out the Dick Pope All-Florida Grand Golden Image Award for best PR program in the state. Recent winners of the award include RB Oppenheim Associates; Jason Mudd & Associates (now Axia Public Relations); and Herrle Communications Group. The Polk County Chapter of FPRA is named after Dick Pope.